AC Repair & Service in Collin and Denton Counties
Call the Air Repair Pros for Emergency AC Services
Don't be uncomfortable during the blazing Texas summer because of an issue with your air conditioner. Call the Air Repair Pros, the Frisco area's air conditioning and heating experts. We provide the North Dallas area with AC emergency services 24 hours a day, seven days a week. We offer free estimates on replacement equipment, and our highly trained technicians can evaluate your current AC system and make recommendations that fit your needs and budget
"What's Wrong with My AC?"
At Air Repair Pros, our priority on a new job is to seek the most effective and affordable solution for our customers. Sometimes, this involves a simple repair. Other times, our professionals may recommend a replacement. That is why we keep our inventory stocked with premier HVAC products proven to offer optimal performance for homeowners.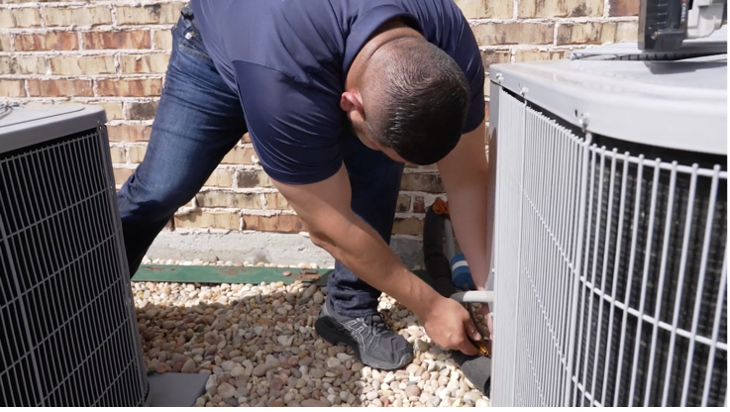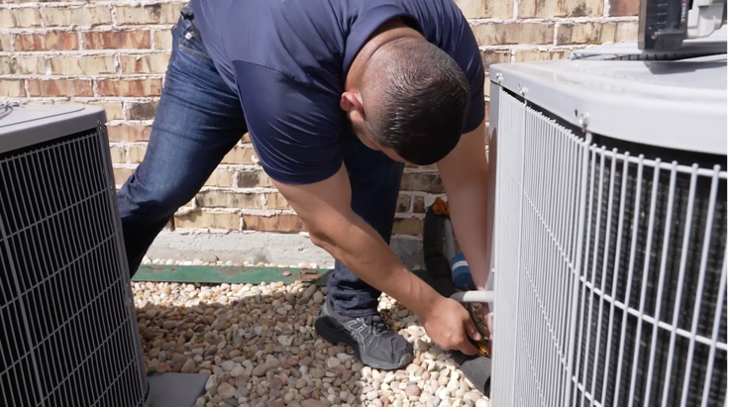 The Air Repair Pros offer:
Air conditioners
Thermostats
Air handlers
Heat pumps
Indoor air quality management
Furnaces and coils
And much more
You Should Call for AC Service If:
Your unit has cracks or leaks
The thermostat does not respond to changes
The temperature varies in different parts of the house
Your unit emits unusual or loud sounds
Your home is not consistently cool
Your energy costs rise unexplainably
You are experiencing weak airflow
You are detecting foul smells
Annual Maintenance Can Prevent AC Emergencies
Some air conditioning repair issues can be avoided by regularly scheduled maintenance on your AC unit. You can save money by having maintenance twice a year to prevent possible breakdowns that require repairs. Our Frisco-area AC repair technicians are certified HVAC specialists and can maintain any home cooling and heating system.
The Air Repair Pros have provided air conditioning and heating repair in the Frisco area for over 20 years. We offer a 100% customer satisfaction guarantee and are committed to old-fashioned values like integrity.
Replace or Repair? Expert Tips on When It's Time to Buy a New Central AC
Are you looking for AC installation services in Frisco and surrounding communities to fight the hot Texas summer? You're in the right place!
You can find several air conditioning service providers online using the keyword "AC installation near me." You will get many results through this search, but if you are looking for an experienced and highly skilled company, then call the Air Repair Pros. We are here to help you! We are a team of highly trained, uniformed, and professional technicians, and we provide fast and reliable AC repair and installation services.
Should You Have Your HVAC Unit Repaired or Replaced?
It can be challenging to figure out when to repair or replace your HVAC unit. Before considering a replacement, make sure that your old AC unit has no more lifespan to keep your home cool in a brutal Texas summer. One way to extend the useful life of your equipment is through regular maintenance in the spring and fall.
Air Conditioner Repair or Replacement: Why It's a Tough Decision
How will you make that decision to repair or replace your air conditioner? How will you know that your HVAC unit has outlived its useful life? Can you use your older unit for another year through repairs? Or will you replace it by buying a new air conditioner? Consider that a more modern unit will be more energy-efficient, and it can lower your electricity bill.
Here are some suggestions to help you to decide whether to repair or replace your HVAC unit:
Know Which Company You Can Trust for AC Repair and Replacement.
Turn to trusted advice to help you decide whether to repair or replace your air conditioner. Some AC service providers try to sell new products when your old unit only needs a minor repair. Other service providers make money by repairing your old units repeatedly.
Don't decide on the spot.
If any service provider insists that you immediately decide to buy new equipment without explaining what's wrong with your AC unit, you're probably talking to the wrong company. It's always best for you to take some time to think about repairing or replacing your AC equipment, and a good service provider will make sure you have all the information you need to make that decision.
Get Advice from a Trusted Service Provider
You should find a trusted HVAC company that offers new equipment installations and repair services. If you are in the North Dallas area and looking for air conditioning installation and AC replacement, then the Air Repair Pros are the right choice. The Air Repair Pros have earned more than 1,000 Google 5-star raving fan reviews.
Consider the Age of Your Cooling System
The approximate lifespan of an air conditioner is 10 to 15 years, so if your air conditioner is older than 15 years, you should consider replacing it with a new AC unit instead of repairing it. Older air conditioners consume more energy as compared to new models. Newer air conditioners are energy-efficient units with 20-40% less energy than older units. That means a newer air conditioner will help you to reduce electricity bills by up to 40% compared to older
units.
Regular Repair and Maintenance
Your air conditioning units keep you comfortable when summer serves up its worst. But if staying comfortable requires constant repairs and maintenance, your air conditioner has likely reached its end.
Energy Efficiency
When repairing or replacing your AC units, you should look at your electricity bills. Many people want to save money on their monthly electricity bills. If your electricity bills are increasing, but your utility company has not raised rates, it might be time for an air conditioner replacement. According to the US Department of Energy, newer air conditioners are more energy-efficient, using 20-40% less energy than older air conditioners.
Contact Us To Learn More
For more than 20 years, the Air Repair Pros have been providing excellent air conditioning and heating repair services and air conditioning installation in Frisco and surrounding communities. If you are looking for AC installation or repair, call us at for further information.
Check Out Our Special 100% Satisfaction Guarantee!
Our Trip Charge is only $67 but with a Comfort Club Membership, we'll waive the trip fee on any same-day repairs.