Thermostat Services in Frisco & Surrounding Communities
Our Thermostat Products
Our control over our indoor climate is only as good as our thermostats. Faulty thermostats are often at fault for causing significant HVAC issues. That's why modern homes must have intuitive, responsive digital solutions to help accurately maintain indoor temperatures and reduce energy costs.
Responsive Indoor Climate Control from Air Repair Pros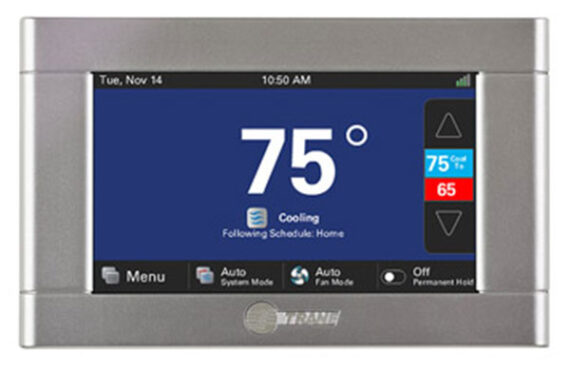 The Air Repair Pros are preferred vendors of top-of-the-line products—including their digital thermostats. We have outfitted countless homes with this innovative technology and helped homeowners throughout Frisco, Fairview, Coppell, The Colony, and beyond accurately control indoor temperatures and ensure lasting comfort for them and their families all year round.
Ready to explore today's best thermostat solution for your home? Call (972) 625-1400 to speak with our North Dallas area HVAC repair professionals.
Thermostat Services in Frisco & Surrounding Communities
Our thermostat services for homeowners in Frisco and other communities in Collin and Denton Counties include installation, repair, and maintenance. Your thermostat is a small device that controls the air conditioning and heating system in your home so that it can have a tremendous impact on your quality of life.
How Does a Thermostat Work?
The most common types of thermostats are electronic and electromechanical thermostat systems. An electronic thermostat functions like a small computer and uses sensors to determine whether the indoor space has the right temperature.
Electronic thermostats have programmable features, including Wi-Fi capabilities that allow you to keep the indoor space at a different temperature during daytime and nighttime.
Electromechanical thermostats contain either a metal strip or bi-metal coil. With the changing temperature, the strip or coil moves to cause a vial that contains mercury to tip, signaling the system about the cooling or heating needs.
Common Thermostat Issues and Solutions
The thermostat is a complex component of the central heat and air system. Research shows that over 70 million American homes have central HVAC systems. When you have problems with your thermostat, choose thermostat services from a Frisco-area specialist like the Air Repair Pros, which specializes in HVAC systems and offers state-of-the-art thermostat repair.
Temperatures Don't Match
A bump can throw a non-digital thermostat off level, causing discrepancies in the setting and temperature. Since dirty thermostat components are the leading cause of this problem, our qualified technician will clean the thermostat's interior to fix the issue. Our technician will adjust to ensure the thermostat is level.
If the HVAC system has a mechanical thermostat, problems can be caused by a frozen anticipator. The technician will locate the arm attached to the round dial and then adjust it to reset it.
Thermostat Stops Functioning Suddenly
A lack of power is the most common issue when the thermostat's display is dark. The technician will replace the batteries and check for a tripped breaker or a blown fuse. They will carefully inspect the electrical panel and make necessary repairs to the thermostat. If the thermostat is dirty, we'll use essential tools like a soft brush or pressurized air to clean away the accumulated dirt or grime.
Our technician will also look for problems such as loose wiring and terminal screws. The Air Repair Pros offer Thermostat Services throughout Collin and Denton Counties and have qualified technicians who will either perform thermostat repair or replace the system as needed.
Non-Stop HVAC Operation
Two common thermostat issues are short cycling and non-stop HVAC operation. The most common cause is dirt or grime in the thermostat. Improper functioning of the calibrated anticipator can cause non-stop HVAC operation or short cycling. The technician can lengthen the cycle via the anticipator lever by adjusting it. A better long-term solution may be an upgrade to a programmable thermostat.
Check Out Our Special 100% Satisfaction Guarantee!
Our Trip Charge is only $67 but with a Comfort Club Membership, we'll waive the trip fee on any same-day repairs.