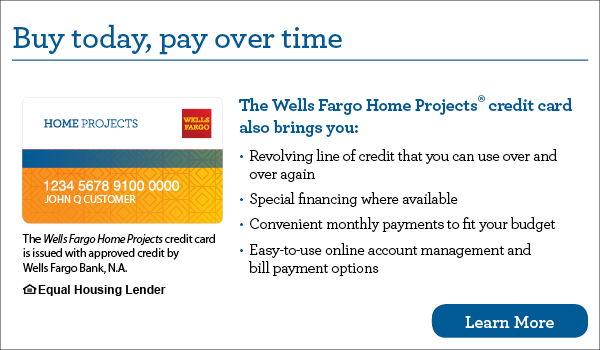 Affordable and Hassle-Free HVAC Repair Financing!
Are you looking for affordable HVAC repair services in Frisco and surrounding communities? The Air Repair Pros' mission is to provide high-quality repair services that will keep your system up and running in our extreme Texas weather. Our qualified and skilled technicians have the knowledge, training, and experience to diagnose, repair, adjust, or replace your AC system or furnace so that your family remains comfortable all year.
The Air Repair Pros have specialized AC Repair Financing programs for homeowners in Collin and Denton Counties. The Wells Fargo Home Projects credit card program offers many benefits to our customers, including an affordable way to upgrade to higher-quality HVAC systems.
AC Repair Financing
The Wells Fargo Credit Card program offers simple and fast credit decisions. It allows you to hire our AC repair technicians fast without any delay in the repair project. Likewise, it provides easy billing options and account management.
With Wells Fargo's credit card program, you can make monthly payments conveniently. You'll have the opportunity to pay off your AC repair project over time with affordable interest rates (including 0% for a limited time).
Affordable AC Repair in the Frisco Area
Affiliation with Wells Fargo allows our company to make quick responses and fast decisions. We can make on-the-spot credit decisions.
We train our professional service technicians in the latest technology they can use to improve the performance of HVAC systems. Whether you have an old or new system, the Air Repair Pros have essential skills to fix your system. Our technician will clean and test your equipment for proper operation.
Priority Service: Day, night, and on weekends, we have licensed and skilled AC technicians available to homeowners in the North Dallas area who will respond to any repair needs within 24 hours.
Help Lower Operating Costs: The Air Repair Pros properly maintains and repairs your cooling system, which helps lower utility bills.
Peak Performance: When you hire the Air Repair Pros for repair work or maintenance, you will get the most out of the money you have paid us.
Comfort Club Membership
The Comfort Club Membership is a special offer for Frisco-area homeowners. This program aims
to offer the most affordable AC Repair in Collin and Denton Counties. Comfort Club Membership provides a long list of benefits like these.
Comfort Club Membership

Service
Cost
AC Tune-up
FREE (valued at $99)*
AC Service Call
FREE (valued at $67)*
Furnace Tune-up
FREE (valued at $99)*
Furnace Service Call
FREE (valued at $67)*
*All these and more for a low membership fee of $14.95 per month for your first unit and $9.95 per month for each additional unit.
As you can see in the above table, the Air Repair Pros Comfort Club Membership is one of the opportunities to access AC services in Collin and Denton Counties.
The Air Repair Pros Comfort Club Membership offers affordable installation, repair, and maintenance throughout the Frisco area. Call us today!